Link Ethiopia has run a successful school linking programme for twenty years. Its our lifeblood. We invite schools to join us in changing lives through education by engaging and challenging young people to learn more about the world around them.
A school link is a sustainable partnership that a primary or secondary school (or college) enters into with a like-minded school in Ethiopia. Each link is focused on your goals and needs, and Link Ethiopia works to support and sustain the collaborative work, commitments, ideas, goals and and experiences between the schools and individuals involved.
Start your link journey today – contact [email protected].
What are the benefits of School Linking?
Linking encourages your pupils to appreciate diversity both locally and globally and challenge stereotypes. The UK needs Global Citizens and we encourage all schools and young people to engage in a meaningful, sustainable and equitable relationship with their Link partners.
Engaging young people
Linking offers a unique opportunity to
communicate with and learn from young people of a very different culture
study real-life case studies that integrate fully with Geography, PSHE, Economics, Citizenship, RE and other subjects
forge friendships
build international bridges
learn alternative values and skill-sets
develop students personal pride, self-esteem and personal growth
Teacher Development
Teachers have ample opportunity for personal & professional development:
Visit your partner school to work on joint projects, further develop friendships and experience Ethiopia first-hand.
Learn about communicating a message, fundraising methods and more.
Participate in accredited training workshops with partners like the British Council.
Join the Global Learning Programme and access the professional development e-credits.
Performance
Parents can see a real focus in school fundraising efforts, and School Inspectors have been full of praise for the global learning support and scope. Linking can:
Improve SATs and GCSE results
Help develop strong student and staff leadership
Really engage young people, including students with emotional behavioral and social challenges
Contribute towards teacher development
Increase class discussions
WHAT DO OUR LINK SCHOOLS SAY?
Don't just take our word for it – we have been working with schools across the UK for over 20 years and they have plenty to talk about when it comes to their School Linking experiences.
From tiny rural primary schools to large urban secondary's, and everything in between, we've worked with schools up and down the UK, and from around the world.
It takes time and effort to build up a relationship of trust between the two schools – and Link Ethiopia are always there to help.

Lynn, Teacher in Leeds
We had an Ofsted inspection... The inspector came on the day my class was introducing the link... and judged the assembly to be outstanding! Thank you.

Carolyn, Teacher in Suffolk
Involve the whole school if you can – it is much more fun that way!

Helen, Teacher in Ipswich
We found that the resources provided were so thought-provoking that they impacted on the whole ... curriculum.

Lyn, Teacher in Hertfordshire
What does a School Link look like?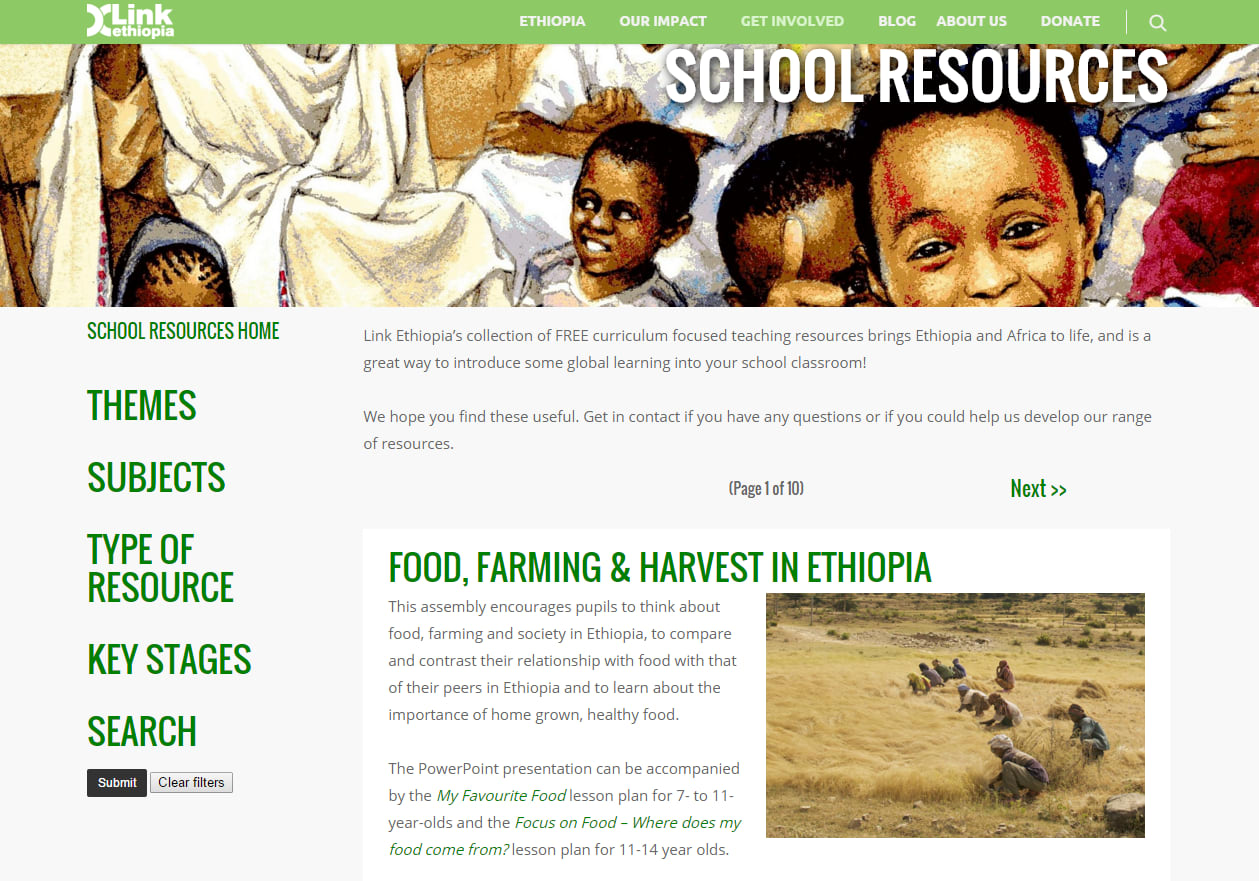 Resources and Lesson Plans
We provide UK schools with lots of information about their partner school, the area their link school is situated, and on the education system and culture of Ethiopia. We also have an extensive collection of Ethiopian photos as well as a large collection of Ethiopia specific teaching resources available on our website.
Shared Learning
We support both the UK and Ethiopian schools with an annual shared learning activity where students from both countries explore together a particular topic or questions, with supportive lesson plans provided by Link Ethiopia for both schools to support the learning from this activity.
Teacher Exchanges
Visits breathe new life into even the most established (or brand new) link, cement the relationships forged through work exchanges, and offer up a wealth of new ideas for shared global learning experiences for pupils and teachers alike. Link Ethiopia have supported dozens of schools to successfully apply for visit funding, and will support your visit every step of the way.
Student Visits
Our staff in the UK and Ethiopia are happy to help and advise you on any aspect of a school visit, from the booking of international flights to the organising of your accommodation near your link school. We have many years of experience in supporting student visits and gap year placements.
Fundraising and Taking Action
Link Ethiopia identifies the most pressing needs that the Ethiopian partner school faces. On completion of a fundraising project, students in the UK get a certificate to commemorate their efforts and photos of the completed projects.
The International School Award
A School Link with Ethiopia has been proven to help school's to successfully apply for and receive the International School Award, by embedding global learning and citizenship work through a sustainable international partnership.
Create your partnership today
Discover how a school link can make a real difference in your classroom. Get in touch with a member of the School Links team by contacting [email protected], or use the form below.